"Can't restore contacts from old iPhone Backup after updating to iOS 7. Please help."
Many iPhone users face the same problem when updating to iOS 7? To recover iPhone contacts after updating iOS 7,
Backuptrans iPhone Contacts Backup & Restore
must be a good choice to easily restore iPhone Contacts from iTunes backup back to iPhone. All iPhone Contacts will be recovered and merged perfectly on iPhone. Restoring Contacts to a new iPhone is also supported.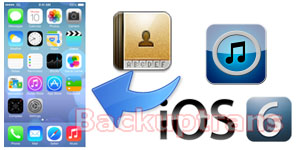 The following article will show you the detailed solution on how to
restore recover iPhone Contacts from iTunes Backup after Updating to iOS 7
step by step:
Step 1: Import Contacts from iTunes backup to local database
1) Click the Local Database list icon.
2) Go File -> Import -> Import from iTunes.
3) Select one iTunes backup info and Select a database to save contacts.
Step 2: Restore Contacts from Backuptrans database to iPhone
1) Connect your iPhone to computer.
2) Click the backup file in Local Database list.
3) Turn to top toolbar and press "Transfer Contacts to iPhone" button or go File -> Restore Contacts to iPhone.
Step 3: Select your iOS 7 iPhone that you want to restore Contacts to. Click "Confirm" to continue.
Done! Restored successfully. All your contacts have been recovered and resotred back to your iPhone.
Free download
iPhone Contacts Backup & Restore to try.
If you are using Mac, please download
iPhone Contacts Backup & Restore for Mac
to use.
Best luck!